We analyze the results of August on the basis of the analytical platform Logistic OS.
Export shipments in August 2020, according to the platform Logistic OS, amounted to 5,369 thousand tons, exceeding the indicators of 2019 years by 7.5%.

At the same time, shipments of wheat to Egypt increased significantly: Russia provided more than 80% of supplies to this country.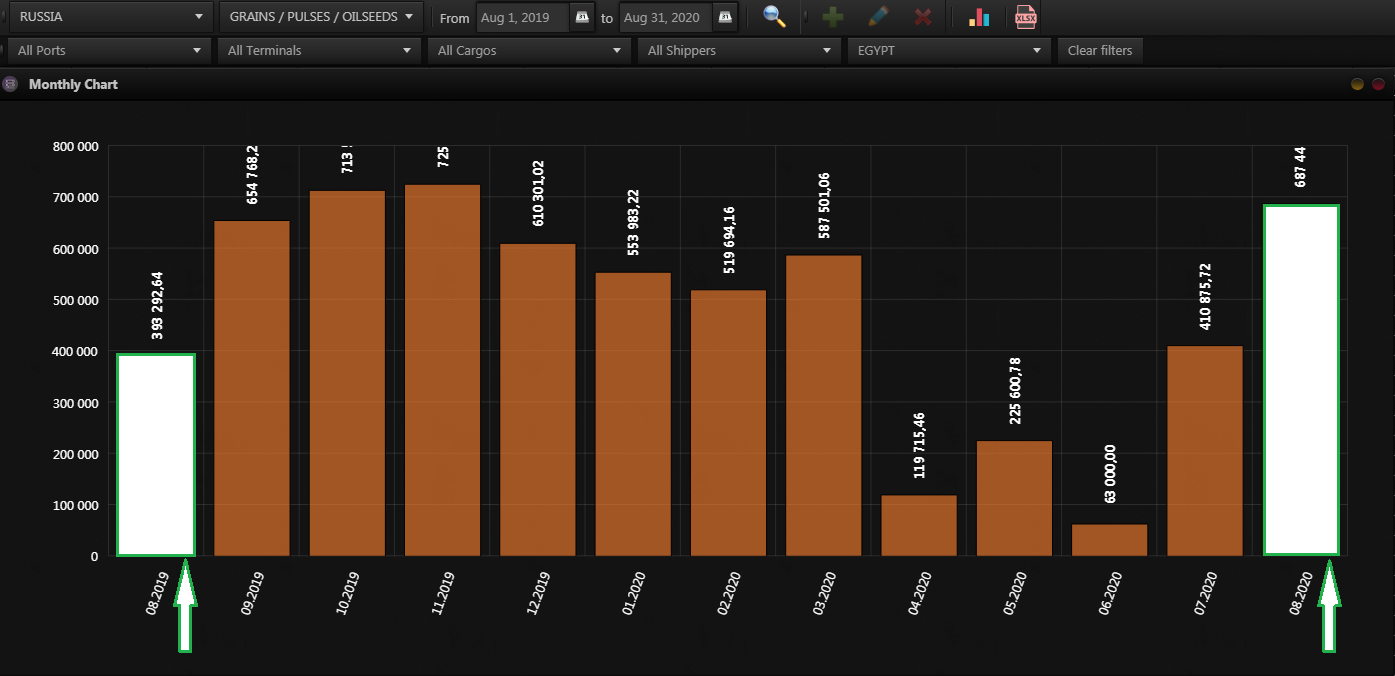 Against the backdrop of problems with harvesting in the EU and, on the contrary, a good harvest in Russia, since the beginning of the season, GASC (Egypt's state food procurement company) has purchased almost 2.3 million tons of wheat, setting a record for this period.
For comparison, on the same date last season, GASC acquired 1.78 million tons, 40% of which came from Russia.
At the same time, the largest supplier of wheat for GASC was Mirogroup — a trader of Demetra-Holding (more than 50% of which are owned by VTB, the rest are owned by Agronova Taimuraz Bolloev and Marathon Group Alexander Vinokurov and Sergey Zakharova).
Contracts for the supply of 710 thousand tons of wheat have been signed.
Another 510 thousand tons will be provided by the United Grain Company(50% minus one share owned by VTB), 414 thousand tons — by AST group, 330 thousand tons — by Trading House Rif.
The purchase price for GASC this season ranged from $ 205 — 217 per tonne (FOB).
In general, exporters have become more active due to the favorable situation inside the country: high ruble prices provide a good margin.
Prices for Russian wheat rose sharply last week after a rise in futures prices on the Chicago and Paris stock exchanges, and the conclusion of a large contract for the supply of Russian wheat to Egypt further spurred price increases.
On Tuesday, September 1, wheat futures quotations on SVOT broke through a five-month high, most likely, counting on an increase in export sales.
Additional support for US wheat prices is provided by the weakening of the dollar against world currencies and worsening crop forecasts in Argentina and France.
The price in the port of Novorossiysk for 4th class wheat increased to 13,633 rubles per ton (+ 4.1% per week).
In the port of Azov — 12,900 per tonne (+ 1.6%)
Compared to the previous year, as of the corresponding date, the price of wheat in the port of Novorossiysk increased by 20.6%, in the port of Azov — by 14.1%.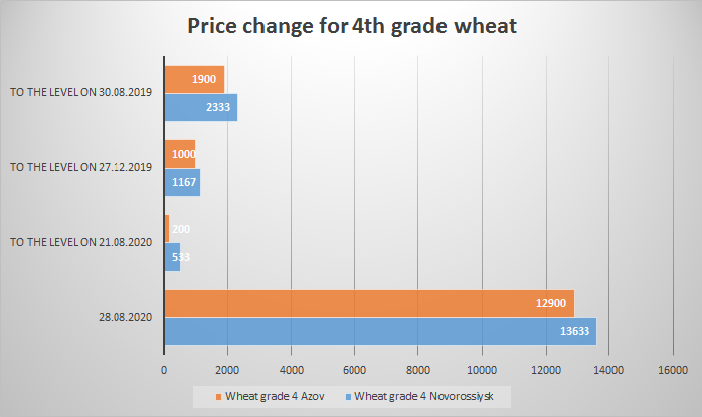 By the end of August, the grain harvest reached almost 91 million tons, of which more than 67 million tons — wheat (73%).