Following the rise in the price of oats and wheat, the price of sunflower oil is also showing rapid growth.
Thus, compared to last week, the price increased by $ 25-30 per tonne, reaching $ 815-835 per tonne (FOB), which is $ 100 higher than last year's figures.
Crude butter on FOB Novorossiysk costs $ 860 per ton. The price is very high, but, according to analysts, it will continue to rise.
If we talk about direct competitors, the price of Ukrainian sunflower oil added $ 50 per tonne FOB for deliveries in November-December: last week the cost of spot deliveries was estimated at more than $ 900 per tonne.
In total, against the background of an increase in prices for all world oils, a decrease in crop forecasts in Russia and Ukraine, growth amounted to about 20%.
So far, the situation with the sunflower harvest is difficult to predict: the first results are very low. Perhaps this is due to the fact that the regions that suffered from unfavorable weather conditions began to harvest.
According to analysts, the reverse price decrease, if observed, will be very insignificant when the mass harvesting begins (in about a month).
Harvest forecasts have already been adjusted downward: Russian farmers will harvest only 11.8 million tonnes of sunflower — 23% less than last year .
So, in the South of Russia, the harvest is expected to decline by a third.
So far, according to SovEkon, harvesting in the region has been completed on an area of ​​306.8 thousand hectares. The gross harvest amounted to 543.2 thousand tons with an average yield of 17.7 centners per hectare.
In general, 0.6 million hectares of sunflower have been threshed in Russia with an average yield of 1.6 tons per hectare. This is 23% less than last year.
It is quite predictable that against the background of a low yield, the price of seeds will also start to grow at a very fast pace.
Last week, the average price for agricultural crops was 22.575 thousand rubles per ton, and in the near future it is planned to increase by at least 20%.
The oil refiners are still concerned about the potential underutilization of capacities: this year new oil refineries are being commissioned.
So far, the export of sunflower oil also lags significantly behind: production in July for the first time dropped below the level of 2019 by 3.2%.
According to the analytical platform Logistic OS, for the period from 01 August to 07 September 2020, 140,552 tons were exported, which is 31.6 % less than last year's figures.
A total of 260,822 tons of vegetable oils were shipped, which is 22.35% less than in 2019.
1.08.20-07.09.20

1.08.19-07.09.19

The main country — the buyer of vegetable oils — China.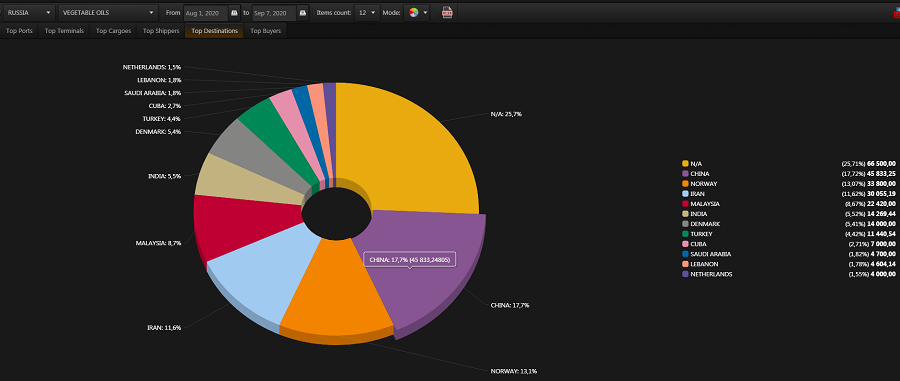 In their forecasts, analysts say that once sunflower harvesting enters an active stage, exports will bypass last year's figures, amounting to 3.96 million tons.