We analyze export deliveries based on the Logistic OS platform.
Russia's decision to introduce quotas on grain shipments in the second half of the current agricultural year led to an unexpected result: the American market went down sharply.
December quotes fell below the minimum.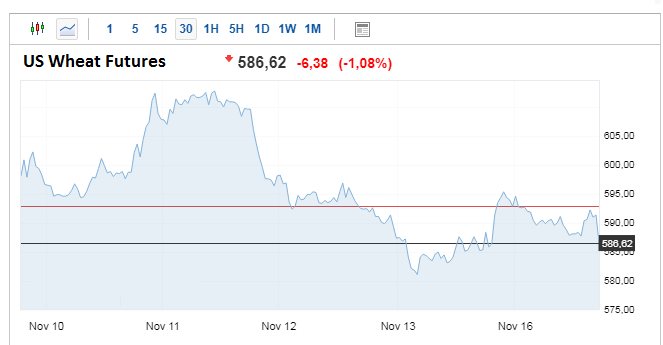 This happened despite the fact that the volume that is supposed to be exported during the period of the current restriction is 2 times higher than last year.
Investors at all three US sites launched speculative selling and took profits.
Analysts believe that the situation with the introduction of export restrictions will play into the hands of importers, and Russia may start losing tenders for the supply due to the fact that the price will include the so-called risk component.
And this will give our competitors an edge.
The negative nervousness of Western markets has not yet passed on to Russian ones: last week, 1,290 thousand tons of grain were exported, which is 24% more than the first week of November.
As a result, in the first half of the month exported 2.4 million tons, while the planned volume for the month was 4.5 -4.7 million tons.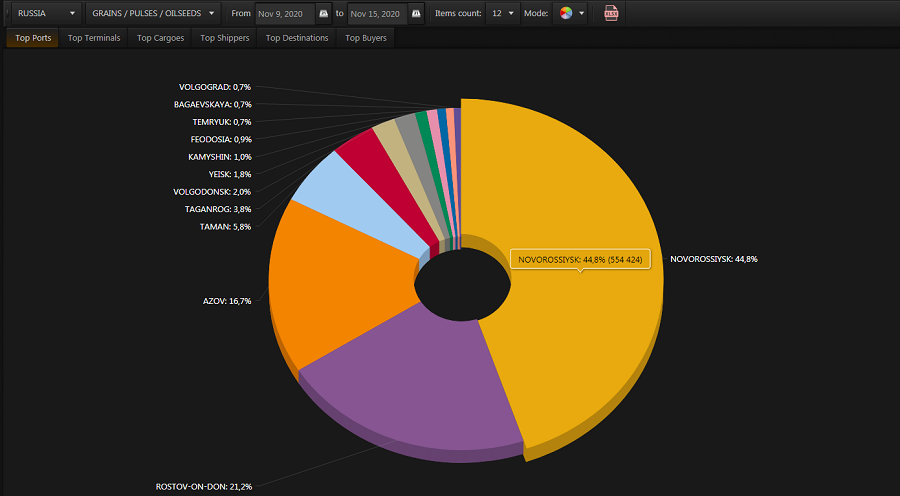 Novorossiysk terminals have almost doubled grain handling: by 87.2%.
At the same time, 44.79% of Russian grain exported passed through them.

And among the TOP-5 exporters there have been changes: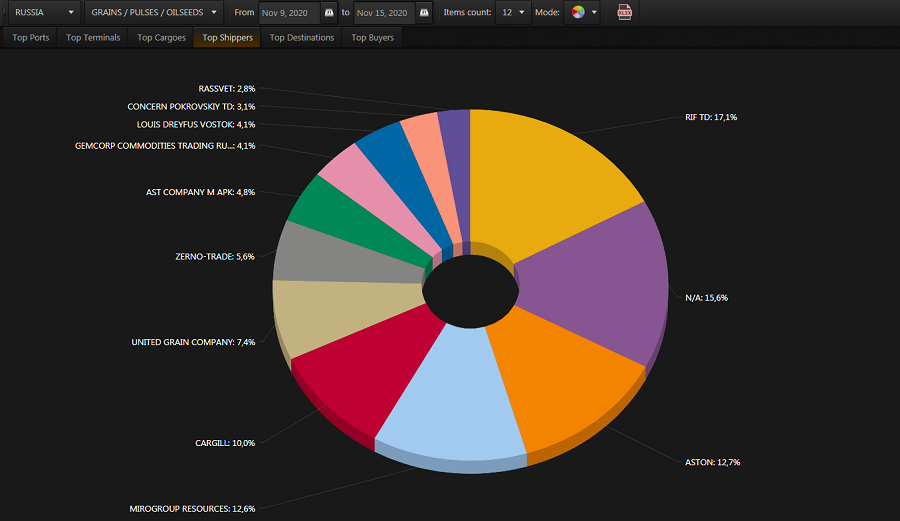 09 – 15.11.2020

02 – 08.11.2020

LLC Trading House "Rif" still does not give up its positions, remaining the largest exporter of Russian grain.
Aston JSC increased its deliveries by almost 50%.
United Grain Company JSC grew in turnover by 23.9%
But the leaders in terms of growth last week — Mirogroup Resources LLC: plus 138%.
Although analysts assume that the introduction of quotas on grain exports will allow Russia to fully realize its export potential, they note that the pandemic is leading to a reduction in world trade in general and food in particular.
That is why the Ministry of Agriculture has developed a new passport for the project «Export of agricultural products», according to which the target of $ 45 billion has been postponed from 2024 to 2030.