The weak ruble has allowed Russian farmers to make good profits.
The fall in wheat prices is progressing on world exchanges.
US wheat lost almost 7% and French 3% last week.
Yesterday, the Parisian market fell another 0.6%: the closing price was 177 euros per tonne ($ 180 per tonne).
In Chicago a bushel of wheat traded in the region of $ 180 per ton.
Russia has not lagged behind the general trend, and wheat with 12.5% ​​protein content in Novorossiysk, for example, dropped from $ 207 to $ 205 FB.
Actually, nothing surprising happened in our export market: the volume of the harvested crop and its forecasts for the end of the harvest are growing day by day.
Although so far Russia has exported 5 671 thousand tons of grain since the beginning of the new agricultural season, according to the analytical platform Logistic OS, which is 17% less than in the same period in 2019 (6 835 thousand tons).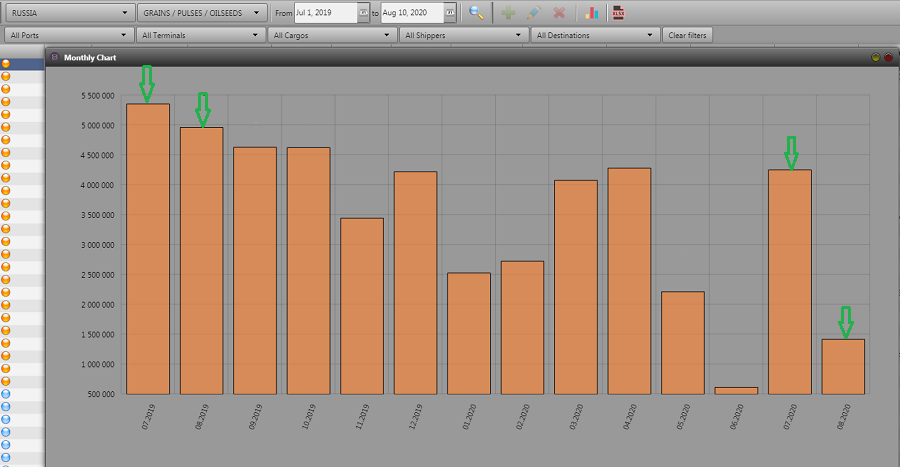 But not only the high forecast of Russia «pulls» down the world prices for wheat: a record harvest of the largest exporter of Canada, very optimistic forecasts for Australia.
Summer wheat in the US is likely to outperform previous forecasts.
At the level of world prices, against the background of such high forecasts, even the news of the French Ministry of Agriculture about a possible harvest of 25% lower than last year did not affect.
In addition to good forecasts, prices are under pressure from the strengthening against the dollar and the ruble, the euro: the difference in exchange rates since May has grown by 10%.
For Russia, on the contrary, this is a favorable factor: a weak ruble leads to cheaper Russian wheat on the world market, but at the same time raises the price for Russian producers.
Russia has already harvested 53.4 million tons of wheat (+ 8.9% yoy).
Harvested from 14.5 million hectares (+5.8 by 2019).
Average yield is 3.67 million tonnes per hectare (+ 1.3% by 2019).
In anticipation of the introduction of quotas in October 2020, exporters are increasing their shipments, especially the Black Sea region has become more active.
In the near future, experts expect a further decline in export prices following the global markets.