Wheat prices in the world continue to increase.
Despite the fact that the harvest in Russia is in full swing, and preliminary results indicate that one of the record grain harvests in recent years will be harvested, the cost of this crop is growing.
The highest prices so far were observed on September 1: on the French exchange they rose to $ 230 per ton, and on the Chicago stock exchange — $ 250 per ton.
By the end of last week, prices had stabilized slightly: $ 228 and $ 246, respectively.
Russian prices are also growing: for example, on FOB Novorossiysk they increased by 2.6% and amounted to $ 213.5 per tonne.
The Russian price is supported by the fact that France has significantly reduced wheat production and now the price for it is high even for the domestic market.
Also, the European Union reduces its export potential by 12.5 million tons, and Ukraine — by 3.2 million tons.
So, in general for the Black Sea region, Russia dictates its own terms.
At the moment, Russian wheat attracts foreign importers: the price for it is 6.5% lower than for the French one.
The highest price for Russian wheat was recorded by analysts in January 2020: $ 230 per ton.
Most likely, this season it will be at the same level.
A possible decrease in the corn harvest in the United States also has an impact on the rise in prices: an increase in prices for this crop leads to an increase in prices for wheat.
But, according to analysts, most likely last week there was a peak in prices, and if some unforeseen situations do not happen, the price will go down.
A possible reduction in supplies by the main supplying countries to the markets of Africa, the Middle East and Southeast Asia causes an increase in their purchases of Russian grain: Turkey and Egypt are already significantly increasing shipments (for more details see article)
According to the analytical platform Logistic OS, from 1.07. until 09/06/2020 1,168.5 thousand tons were exported to Egypt, which exceeds the shipments of the same period last year by 20.8%.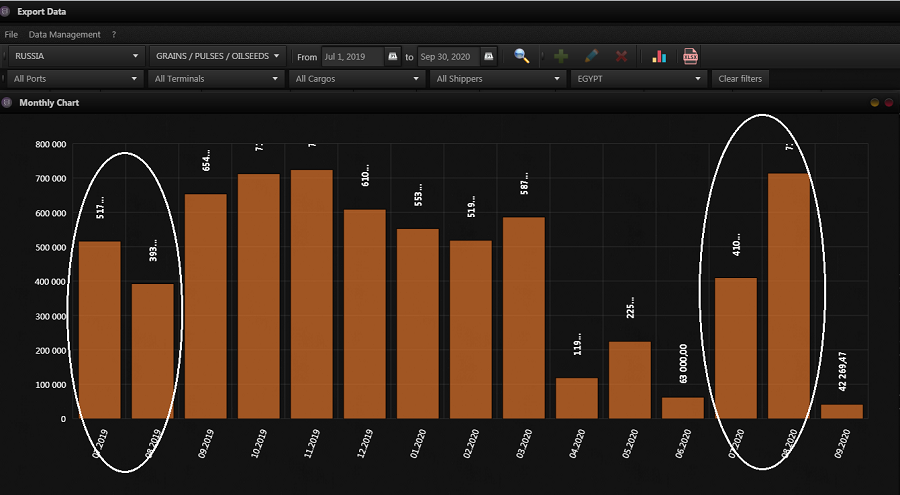 Due to the rise in prices, export shipments are also growing.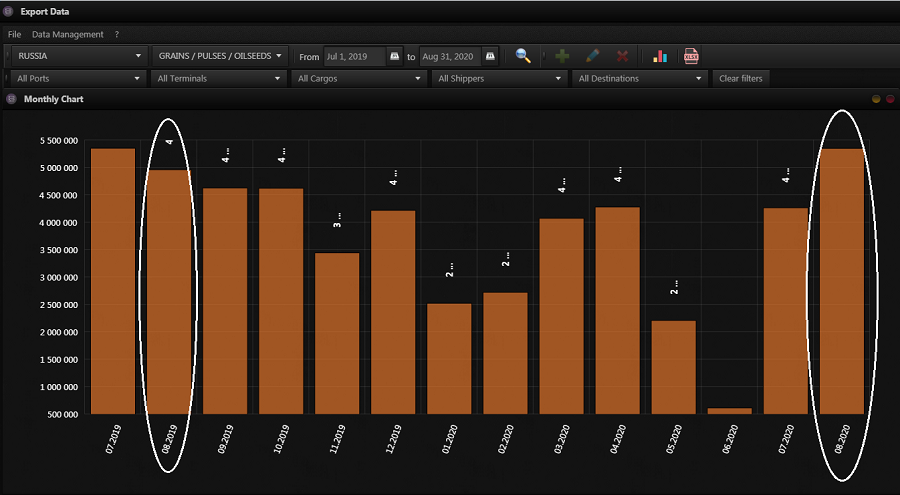 In August, Russia broke the absolute record of export shipments: 5 351 thousand tons.
Prior to this, the largest numbers were shown in August 2019. — 4,963 thousand tons.
Analysts believe that in September — October 2020 more than 5 million tons per month will be shipped, which will also be a record.
In general, forecasts for the export of wheat in 2020 are kept at 38 million tons against 34 million tons last season.