The Russian market reacted to the growth of futures on the Chicago Stock Exchange.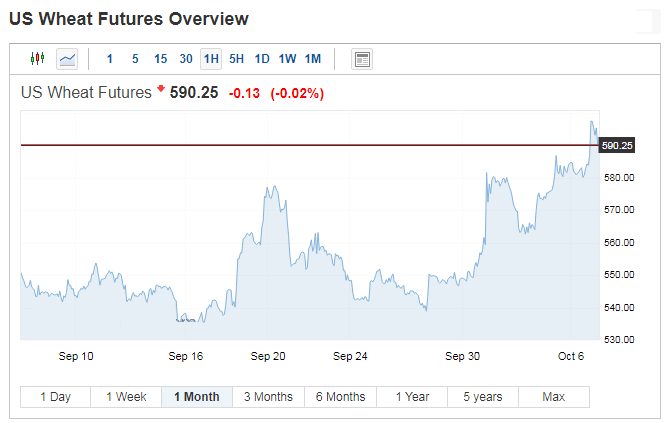 For information:
on world exchanges, wheat and other commodities are measured in bushels (this measure of volume corresponds to three buckets).
Thus, the weight of the goods (wheat, oats, rice, etc.) is different, but the volume is the same — 1 bushel.
1 ton of wheat is equal to 36.7437 bushels.
The price is indicated in cents.
Wheat is the main product for ensuring the food security of the country in general and for each person in particular.
In terms of trading volumes, transactions with wheat account for 40% of the world grain trade, therefore, export markets, in addition to demand, yield, exchange rates, are sensitive to exchange quotes.
This time, the rise in prices to highs since the end of January 2020 is driven by news of drought in Russia and the United States.
In addition, the US Department of Agriculture announced data on the assessment of reserves, which turned out to be below market expectations.
The price of our wheat with a protein content of 12.5% ​​has risen in price by $ 9 to $ 235-240 per tonne (FOB) over the week, returning to levels two weeks ago.
Last year it was $ 191 per tonne, and last season's high was $ 245.
However, our analysts believe that prices for Russian wheat are unjustifiably overstated, which was confirmed by the procurement tenders partially canceled at the end of September.
The importers simply did not accept the high price level.
With all this, on October 2, the Economic Coordination Council under the government of Pakistan approved the import of 180 thousand tons of wheat for delivery from October 15 to November 30 at a price of $ 246 (FOB).
Also in the tender held by the Trade Corporation of Pakistan in the amount of 300 thousand tons, Russian wheat was the best.
In the coming days, tenders are expected from Turkey, Jordan and Tunisia with a total volume of 320 thousand tons.
According to the analytical platform Logistic OS last week, 460 thousand tons of grain and leguminous crops were shipped through the terminals of Novorossiysk.
This is 9% less than the indicators of the previous week, but almost twice more than the same week of the previous year.
In general, from September 28 to October 4, Russia exported 1 319 thousand tons of grain and legumes, practically repeating the figures of the previous week.
(Analytics based on Line-Up and Export applications Data)